As of today, this server (the one hosting this website you're reading now) is now part of the NTP Pool Project. NTP is the Network Time Protocol. Your computer uses it to retrieve time information from time servers automatically adjust the time in its internal clock.
I was surprised there were so few NTP servers in the Japanese pool. Apparently there are only 21 active machines (counting mine).
You can see the server stats here.

Remember this post from a few days ago? I was talking about how Hitachi is spamming its customers (me being one of them), and I ended the post with "Buy a Western Digital instead".
Well, after that blog post a very polite representative from Hitachi actually replied via email asking about the hard drive's serial number and part number. I wrote back to him just a few minutes ago, and I got an automated error message from their mail server:
Hitachi Global Storage Technologies has been acquired by Western Digital.  Our new name is HGST.  When sending email messages to HGST, please adjust your email address to use the "hgst.com" domain.  Example:jim.smith@hgst.com
Emphasis mine. Initially I thought it was some kind of joke from their mail server admin(s), but it's actually true. Here's the press release from Western Digital. The press release is actually from March, so I was three months late with my buy a Western Digital comment.
What will happen now? Will they stop spamming non-US customers regarding US-only campaigns? Or will it get worse?

Yesterday I was walking in Odaiba. I love the view from Tokyo Bay at night from there. However, it was a bit chilly, so on my way back home I decided to walk inside the DECKS shopping mall instead of the avenue outside. There on the second floor of the mall I found a shopping area decorated as the Tokyo from the 1950s. It's called the Daiba 1-chome shopping street (台場一丁目商店街, Daiba 1-chome shotengai). In all my years in Tokyo I had never been here. I don't know for how long it has been here, but it's a very nice place. There are restaurants, a food court, shops where you can buy old clothes, a candy shop… all of them with an atmosphere that reminds the 50s.
I liked the place. Especially, I liked a retro game center with game machines ranging from the 70s to the early 90s.
Unfortunately I didn't have my Nikon DSLR camera with me. I took photos with my iPhone, but the quality is quite bad because of the bad lightning. Most of the photos are from the retro game center.
Photo gallery after the pause. Enjoy.
Read more ›
Look at this product page from G-Technology (Hitachi):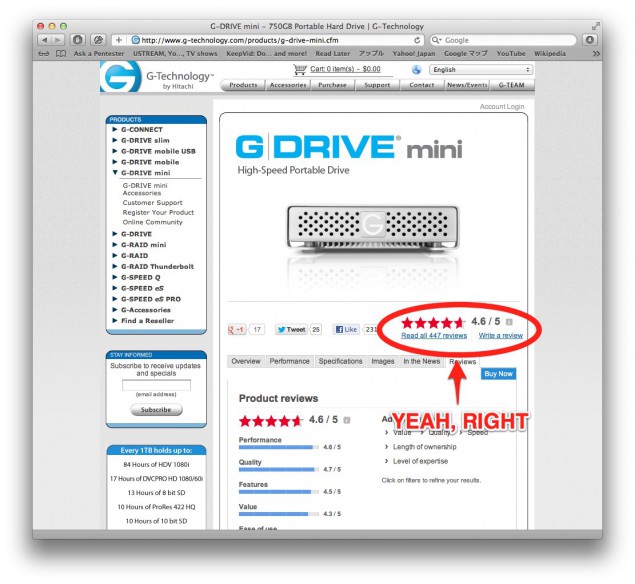 Wow! That must be an awesome product, right? Over 90% score from almost 450 reviews!
Too bad it's a lie. Keep reading for my experience with this external disk.
Read more ›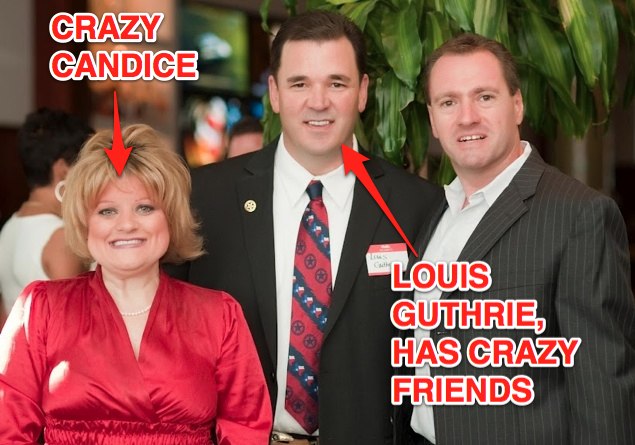 Imagine that you're a professional photographer: you earn money by taking photos and licensing them to customers who want to use them. One day while browsing the web you find a web site using one of your commercial photos illegally. You wonder how many people are doing the same, so you run an online search and find out that there are many, many web sites using your photo illegally.
You want these people to stop using your work. You could try and contact each of the web site owners, but you know that it's going to be pointless because most don't have contact information, or the contact person doesn't have access to the web code, or they will just ignore you. You decide to send DMCA takedown notices to the companies hosting each of these web sites, so they will get in touch with their customers and ask them to remove your photo from their web sites.
As a result of the DMCA takedown requests, many of the web sites remove your photo, others offer to license it, as they should have done from the beginning. It seems to be going well.
Until a crazy psychotic person enters the scene.
Read more ›
The Japanese music industry sucks. Look at bands like AKB48 or Kyary Pamyu Pamyu (きゃりーぱみゅぱみゅ). If you are living in Japan then you must be sick already of seeing them everywhere.
In case you hadn't heard about them, I'm going to share the pain:
AKB48 is an all-girl band composed by *64* members, whose only talent is being young and cute. They jump around in the stage singing without much grace, but that doesn't matter much, because their fans (mostly male otakus) only care about their looks.
They started in their own theater in Akihabara, where they performed daily in front of their fans (they still do). The group is actually named after the Akihabara district.
Read more ›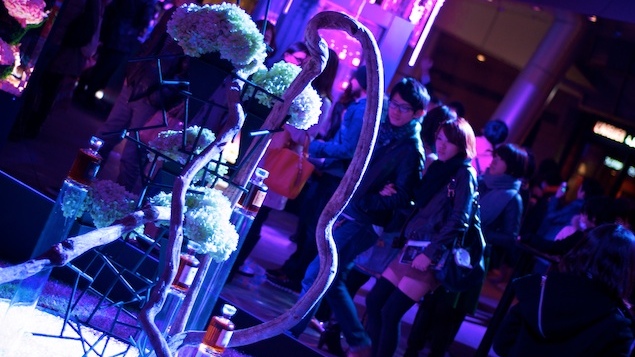 Last year I started developing this blog from zero, both the presentation layer (HTML and CSS) and the server-side logic (PHP and a PostgreSQL database). My intention was to get back up to speed in systems administration and PHP development, because for the last several years I hadn't been doing any real development.
Well, it looks like I achieved that. I'm (more or less) up to date again, so there's no point in spending more time developing the content management software, when I can instead set up a WordPress blog in the server and start using it right away.
So that's what I did. You'll notice that I removed the photo galleries. This is because I couldn't find any photography plugin or application that integrates nicely with WordPress in order to present a decent-looking gallery. I will have to develop that part on my own. Until then, I'll keep posting my photos on Flickr.
So welcome (again) to my blog.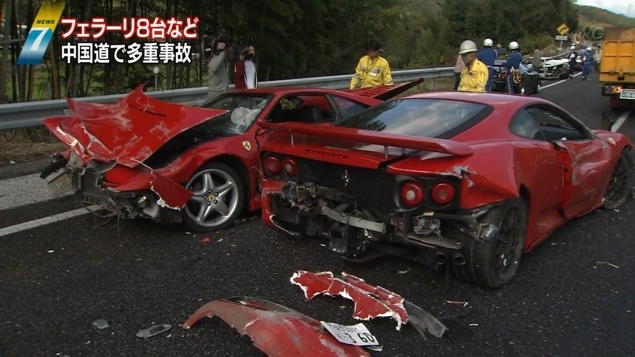 Very fun car crash in Japan. According to the Mainichi Shinbun, several Ferraris, a Lamborghini, a few Mercedes and a Toyota Prius were involved. Total 14 vehicles. I assume the poor guy driving the Prius was just in the wrong place at the wrong time and was not part of the convoy.
Read more ›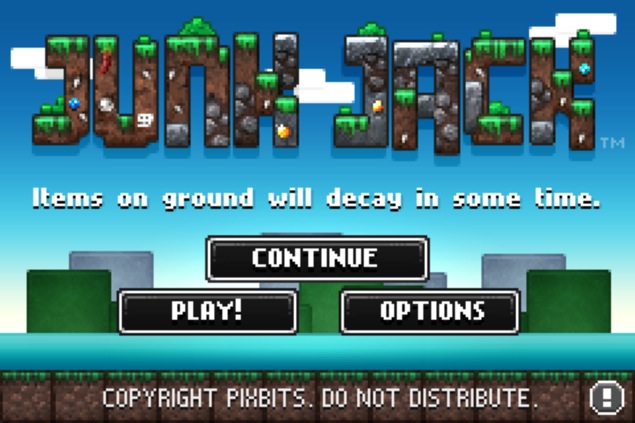 This is not a game review, it's a rant.
Probably you've heard already about Junk Jack by Pixbits. It's an iPod touch/iPhone mining game, similar to Minecraft, but two-dimensional and not so advanced in what you can build. The game is open and simple: you 'farm' stuff by destroying the blocks that make up the game world, and then you use those blocks to build stuff (tools, weapons, furniture, etc). The graphics are adorable in pure 8-bit fashion and the music and sound effects are good. Search online if you want a real review.
Read more ›

Welcome to my nice, cozy, little space on the web. As you can see, I've just launched this new site and there's almost no content, apart from a couple of photo galleries.
This is not going to be a blog. There won't be many posts because I don't think I'm the kind of person who likes telling to the world what I'm doing every day, what the places I'm visiting, or what things I see on my way to work every morning. I have other priorities. However, I do have opinions on several subjects (mostly modern-day politics, computer-related laws, and corporate/government corrupt behavior). From time to time I will feel the need to write something about these, and I will. Expect to see also some technical content every now and then.
Read more ›