Last December as the year was about to end I received 8bits4ever's FDC-600 floppy disk controller for MSX computers and Tweeted about it:
Just received this little beauty from Spain! When the stores open I'll go buy a floppy drive to test it. #msx #retro pic.twitter.com/NupL0btBUU

— Javi Lavandeira (@javilm) December 31, 2015
The plan was to go buy a floppy drive and a couple of cables and write a review immediately after the New Year vacation, but I focused on other things for a while.
It has taken a while, but here's the review.
First of all, what is it?
The FDC-600 is a floppy disk controller. It allows us to plug almost any PC floppy disk drive to an MSX computer and use it as if it was a native MSX drive. The only requirement is that the disk drive must support the DS-DD format (double-sided double-density), or 720KB. Almost all drives do, so we don't need to worry about what drive to buy.
This cartridge is an excellent way to add floppy disk support to an MSX that didn't come with a disk drive, or as a way to bypass the original drive when it breaks and it can't be replaced.
Presentation
The interface arrives in a small cardboard box with a big printed label. Nothing fancy, but more than good enough. Inside the box there's a bubble-wrap bag containing a Konami-sized cartridge. This point alone makes this interface a very interesting purchase, because other MSX floppy disk controllers have typically been annoyingly bulky. The cart itself comes wrapped in a layer of thin foam to protect it from scratches.
There is no printed manual, but when the order ships we receive a link to download a couple of PDF documents with the instructions.
The cartridge case is made via injection moulding and the plastic is very high quality. It comes with a full color label attached to the front (it doesn't cover the top nor the back of the cartridge).
Overall, the initial impression is that this is a very professional product. The package could be more elaborated, but that would probably increase the price, which is one of the strong points of this interface. In my personal opinion, the current package is more than adequate.
Components
No surprises here. Besides the interface cartridge, the components required are:
A standard PC floppy drive that supports DS-DD disks (also known as the 720KB format)
A standard 34-pin floppy drive cable, without the small plastic key at the top (read below)
An external power source for the drive
All of these are very easy to obtain. In my case I just went ahead and ordered the components from Amazon to save me a trip to Akihabara. This is what I paid:
The total amount for these components (if I had had to buy the power supply) is just ¥3,770 ($33), which is a very reasonable price for the functionality it adds to the computer. Note that original floppy drive interfaces usually sell for around ¥10,000-¥20,000 on Yahoo! Auctions depending on the condition.
I chose to go cheap and buy the cheapest 34-pin cable I could find, but if you want your setup to look cooler then you can spend a couple more dollars and buy a round FDD cable, or even buy/make a hardcore-looking external enclosure for it.
As I mentioned before, it's important to make sure that the 34-pin cable connector doesn't have the small plastic tab at the top:
If for any reason you can't find a cable without the plastic tab then you can always remove it with a small knife (be careful not to cut yourself!) or just sandpaper it away.
Setup
Not much to say here because it is dead simple. The cartridge has a 34-pin connector at the top in order to connect the drive. The only thing to take into account is the orientation of the ribbon cable. Make sure that it is connected like this:
The twisted side of the 34-pin cable connects to the disk drive, with the colored wire to the left (when looking at the back of the drive)
The other side of the cable connects to the cartridge also with the colored wire on the left
Just make sure that the drive is also connected to power, and that's it. As long as the ribbon cable is plugged correctly then the drive will work as if it was a native MSX floppy drive.
Compatibility
The FDC-600 should work with any MSX computer, from the most basic MSX(1) machine to the MSX turbo R machines. I tested it with the following computers:
In order to use the MSX-DOS operating system we need at least 64KB of RAM, and MSX-DOS2 requires at least an MSX2 computer with at least 128KB of RAM. These requirements are the operating system's, not the floppy disk drive interface. The interface includes its own disk ROM and works just fine from MSX-BASIC with only 16KB of RAM (though there's not much we can do in a computer with such a small amount of memory).
Loading an MSX-BASIC file from disk on the MX-10
One thing I noticed during my tests is that the drive doesn't work properly in 720KB mode unless I covered the high-density hole in the floppy disks with a sticker. I never needed to do this when using native MSX drives, but I guess it makes sense when using a PC drive.
A very interesting thing is that this cartridge supports 5.25″ drives. Yes, you can actually go to eBay and buy a 5.25″ floppy disk drive and cable, plug it to your MSX computer, and have it work out of the box without any tinkering! The MSX-BASIC CALL FORMAT dialog gives us this option even when there's no 5.25″ drive connected: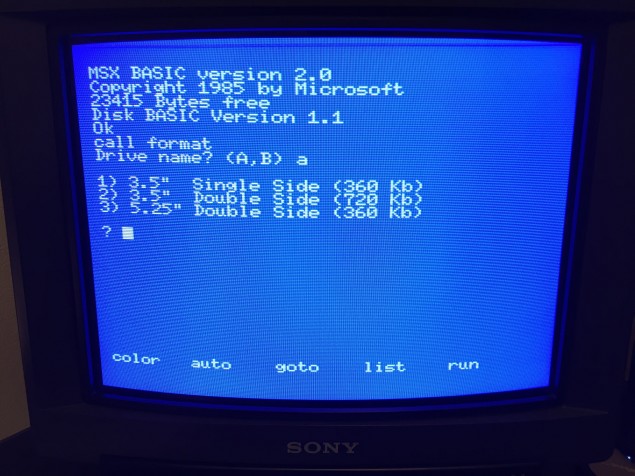 According to the manufacturer, this interface works also with floppy drive emulators such as the HxC and Gotek drives (it makes sense, since these are designed to emulate a standard drive). How's that for compatibility?
I almost forgot to mention that it also supports two drives simultaneously. We can buy two floppy drives and a dual drive cable and have a two-drive setup on any MSX computer. This should work with any combination: two 3.5″ drives, two 5.25″ drives, or one of each.
Performance
It feels quite fast for a floppy drive (definitely not painfully slow as the floppy disk drive in the Sony HB-F700). It takes a bit over a minute to format a 720KB disk, and games load reasonably fast. No surprises here.
Formatting a floppy on the FS-A1
Listing the files on a disk and booting a game
How to buy
The FDC-600 can be ordered from the 8bits4ever product page. The price is 70 euro with worldwide shipping included, so it's a very good price for such a useful piece of hardware. It's also built to order, so when you buy one they'll assemble it and ship it to you.
Overall impression
This interface is very simple to set up, professionally built and works perfectly. It is also very reasonably priced.
If you have an MSX without a floppy drive then this is a no brainer. Go get one and make your computer much more useful.