Cada mañana después de levantarme me tomo un café o un vaso de leche delante del ordenador mientras miro el email, el muro de Facebook, o las notificaciones de Twitter, según el tiempo y las ganas que tenga.
Al mirar Twitter esta mañana me han llamado la atención estas sugerencias de a quién seguir: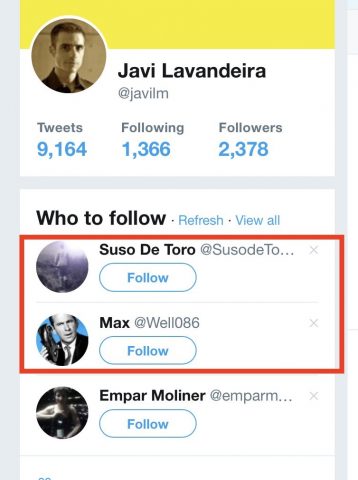 Esto no tendría nada raro, si no fuera porque hace tiempo que sigo tanto a Suso de Toro (@SusodeToro1) como a Max (@Well086), o por lo menos eso creía yo. Parece ser que Twitter, sin mi consentimiento, me ha eliminado como follower de Suso y Max.
Yo no me habría enterado si no hubiera sido por esta gran incompetencia: Twitter me sugiere que siga a las dos cuentas de las que Twitter me acaba de desuscribir. Y es posible que hayan sido más de dos, y de momento estas sean las dos de las que me he dado cuenta.
Esto no es nuevo. Hace ya algunas semanas que varios usuarios influyentes vienen denunciando que Twitter les elimina de golpe cientos o miles de seguidores. Otros informan de que sus seguidores reales son sustituídos por cuentas falsas (bots), presumiblemente con el objetivo de que no se note tanto la purga. Otros, como yo, nos damos cuenta de una forma u otra de que cuentas que hasta hace poco seguíamos ya no aparecen en nuestra timeline, y al investigar un poco vemos que Twitter nos ha eliminado como seguidores de estas cuentas.
Tan extendido es este problema que ya tiene hashtag propio: #TwitQuisicion.
Al poco de conocerse este problema empezaron a publicarse listas de usuarios afectados. Curiosamente, todos los usuarios a los que les desaparecen seguidores o bien escriben a favor de la independencia de Catalunya, o critican el comportamiento del gobierno español. Algunos de los usuarios afectados son Jordi Borràs (@jordiborras), Bea Talegón (@BeatrizTalegon), Alerta Republicana (@alertatrollcat, que denuncia cuentas trolls), Gabriel Rufián (@gabrielrufian), el mismísimo Molt Honorable President Carles Puigdemont (@KRLS), CNI Catalunya (@cnicatalunya), y muchos otros.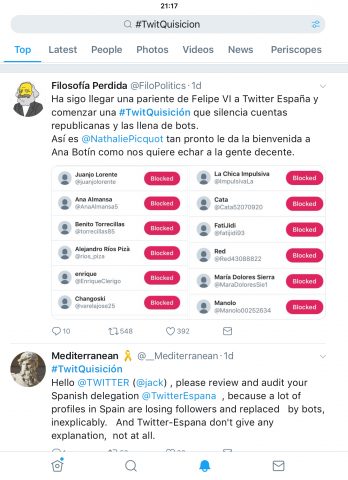 ¿Y qué motivo puede tener Twitter para censurar de esta manera todas estas cuentas? ¿Por qué una empresa americana tiene tanto interés en manipular la opinión pública silenciando a quienes apoyan la República Catalana?
Pues muy fácil: desde el día 2 de octubre de 2017 (sí, el día después de las brutales cargas de la policía española contra los catalanes que iban a votar), la directora general de Twitter España es Nathalie Picquot: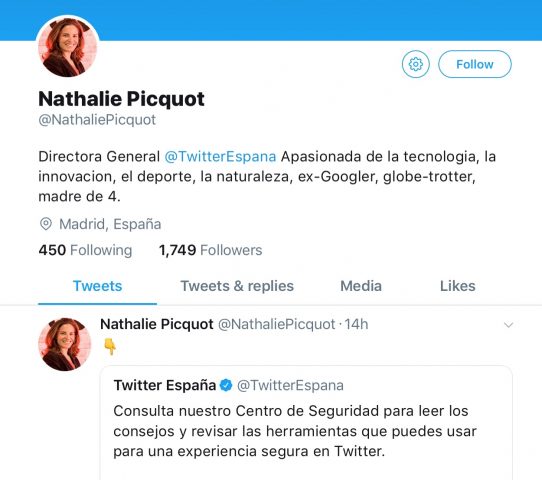 Esto no tendría ninguna relevancia si no fuera porque Nathalie es familiar del rey Felipe VI de España. Concretamente, está casada desde 2005 con Álvaro Fernández de Araoz Gómez-Acebo, primo del rey.
Es de suponer que el principito (aún no me hago a la idea de que este imbécil sea rey) ha aprovechado el lazo familiar para presionar a Nathalie y que se censuren estas cuentas, igual que presionó a empresas con sede social en Catalunya para que cambiaran la sede social.
Personalmente, me parece vergonzoso que una empresa como Twitter ceda a presiones de un gobierno represivo para censurar usuarios y manipular la opinión pública con fines políticos.
Si queréis transmitir a la directiva global de Twitter vuestra opinión sobre esta situación, podéis usar el formulario web en esta URL.
The previous part of this post ended with a few quick words about the MEMORY SAMURAI. Let's continue where we left.
Manufacturer: Classic PC & Game Rescue Committe
The MEMORY SAMURAI arrives in a clear vinyl bag including the cartridge and a paper sheet with instructions. It's nice enough, though a box would have been much better.
Keep reading below for the full review.
Read more ›

How do you even review a memory expansion cartridge? Usually you just plug it into a cartridge slot, turn on the computer, and that's all: your MSX computer now has more memory. There isn't really much else to say, or at least there wasn't, until now.
In this review we're going to see two traditional MSX memory expansions (Repro Factory's MSX Memory Mapper and 8bits4ever!'s MEGA-MAPPER), plus a very special new arrival: Classic PC & Game Rescue Committee's MEMORY SAMURAI, which brings an astonishing 16MB of memory to our MSX computers.
I've never seen so much memory in an MSX computer before, much less know what to do with it. It is awesome nonetheless.
Keep reading, because there's a lot to talk about.
Read more ›

In the previous post we learnt what pointers are, their properties, and how to use them. However, most likely this didn't help understand why pointers are so useful or why we even need them at all. Today we're going to take care of that.
Pointers are most valuable when combined with other functionalities of the C language. Let's start by taking a look at how they work with arrays.
Read more ›
Today Sander Zuidema (snout) has published a note about me and the MSX Association in the MSX Resource Center. Here it is:
This msx.org post contains a few wrong assumptions.
I've received already several emails regarding this from MSX users around the world (mostly Brazil, probably because of the time zone), so let me correct the wrong statements before I get too many emails to reply one by one:
Read more ›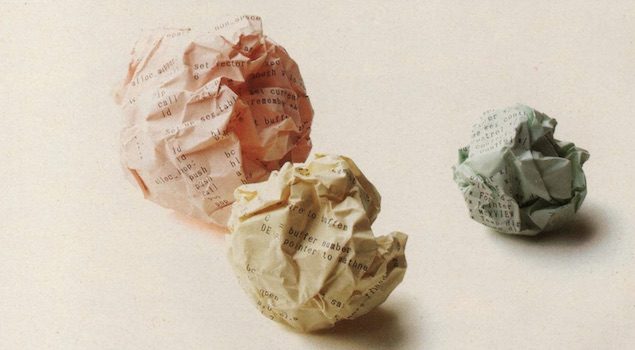 Pointers are a special type of data in the C programming language (and also C-like languages). In short, a pointer is just a variable that contains the memory address of some data in the computer. It's a simple concept, but pointers are always a source of confusion when we're learning the language. However, once understood they become a powerful tool that provide lots and lots of flexibility.
Today we're starting a short series explaining what pointers are and how they can make our programs much more interesting. As always, don't hesitate to ask in the comments below when anything isn't clear.
Let's begin.
The address operator (&) and the indirection operator (*)
Computers store all program data and variables in an area known as memory. In MSX computers memory is organized in 65,536 cells(*), each containing a number between 0 and 255 (known as a byte).
Each memory cell is identified by a number between 0 and 65,535 (0x0000 – 0xFFFF in hexadecimal). We call this the memory address.
It's easy to visualize this concept if we think of the computer memory as an spreadsheet with 65,536 rows, such as this one:
Read more ›
Hi all,
First of all, thanks to all of you who support the creation of new Relearning MSX articles via your patronage on Patreon, and in your comments here, on the Facebook MSX groups, Reddit and Twitter!
Today I've changed the Patreon reward system. Until yesterday, the first four Relearning MSX posts every month were exclusive for Patrons for a week, and after that they became public for everybody.
Somebody gave feedback on Facebook, saying that announcing each post twice (once the moment it became available for Patrons, and once more a week later when it became public) felt too spammy.
In order to address this, all future Relearning MSX posts will be public from the very first moment. Patrons are still charged for the first four articles every month, but now everybody has access at the same time, whether they're supporters or not. This also involves less work for me, since I don't have to go back and forth setting up access passwords and keeping track of when articles become public.
If you find my programming articles useful, please consider becoming a Patron. Every little bit helps ensure that other life commitments don't take precedence over writing new content.
Thanks!
The MSX Resource Center (most commonly known as MRC) is currently the biggest MSX user community on the Internet. It started when Sander van Nunen in the Netherlands registered the msx.org domain around 1996. Search results for "MSX" or "MSX computers" on Google show the MRC near the top because their domain name matches the search and also because it has been around for so long.
This is unfortunate, because the MRC is a toxic community and it keeps harming the MSX scene.
The latest incident happened just yesterday. What started as a post about Brazilian MSX users taking a stand against piracy ended in a heated discussion when the user foobarry81 attacked the game developer Kralizec. The MRC moderators did nothing to stop this user, resulting in continuous attacks agains Kralizec and several users publicly announcing they were leaving the MRC for good.
In other words, a shitstorm.
Keep reading for the details.
Read more ›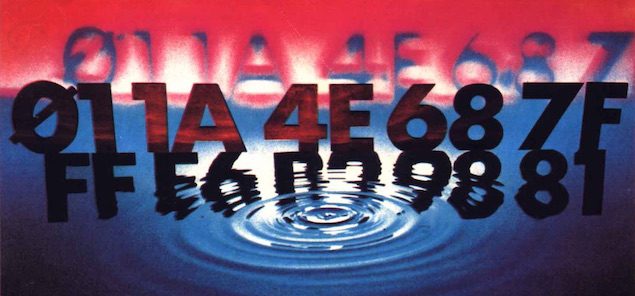 We've already seen how to use local variables inside a function declaration. However, there are times when we want to be able to share the same variable between several functions. In this situation local variables aren't the best solution.
There are other cases when we want to use a local variable, but we need the variable to retain its value between calls to the function.
In this chapter we're going to see how to declare and use variables to support these two situations.
The storage class of a variable
All variables in C have a property called storage class. The storage class defines the lifecycle of a variable. This means that depending on this property, a variable can either be created and destroyed several times during the execution of a program (whenever we call the function or block that defines the variable), or created once and exist until the program finishes.
Variables in MSX-C can belong to one of the two storage classes below:
Read more ›