I just got this very official-looking mail in my main address:
It reads like this:
Dear javi@lavandeira.net, (19 – September – 2014)

This message is to therefore warn you that your iCloud and Apple Account (javi@lavandeira.net) has been temporarily locked until we can validate your Apple Account details. This protective measure to secure your iCloud Account from unapproved usage. We apologise for any inconvenience you've been caused.

You will be unable to use iTunes or iCloud sync/backup or the iTunes/App Store & App Store until you verify your Apple Account ownership, we urge you to finish verification as soon as you can. Failure to validate your details within a 48 hours can cause termination of your Apple/iCloud ID to safeguard our system.

How to verify my Apple ID and restore access?
Just proceed to the link underneath to prove ownership of your Apple ID. Log-in in using your Appe/iCloud ID and password, then read the instructions.

> Certify My Apple Account

While using Apple devices and services, you'll still sign in with your main email address as your Apple ID.

If you have questions and need help, visit the Apple Account Care site.

Thanks again,
Apple Account Maintenance Team

Case Support ID: #Y10FHK10419-EU10
It sounds very scary and serious. Should I click the link and log in with my Apple ID and password?
No.
This is just another phishing attempt. You are likely to receive a similar email. Do not, under any circumstances, click on the link and enter your details. I repeat: it's just another phishing attempt.
Looking a bit closer we can see that the message's reply-to header points to an address in the ioscareteam.co.uk domain. This domain doesn't belong to Apple:
The link in the body of the message also points to the same domain. Just place the mouse pointer over the link (without clicking) and wait a couple seconds:
Clicking the link would take you to a very convincing fake Apple site that copies Apple's real site. Looks like they even copied the country/language selection code.
However, this fake site will send your login details to the idiots who are trying to scam you:
Summary: if you get an email like the one I got, ignore it.
Blizzard:
Thanks for the invitation to the public beta of Warlords of Draenor. When I saw the invitation email in my iPhone I initially thought it was just another phishing attempt to get my Battle.net ID and password. However, this time I didn't see any suspicious links in the content, so I went ahead and logged in to my account and confirmed that yes, there it was:
Without thinking much about it I installed the client and downloaded the content, then gave it a try for a few minutes. Yes, it looks fantastic. However, this time I'm not staying. Azeroth won't be seeing me again anytime soon.
Read more ›

I received my Oculus Rift DK2 yesterday morning. I ordered it on March 19th, within hours from the announcement. Here are my first impressions.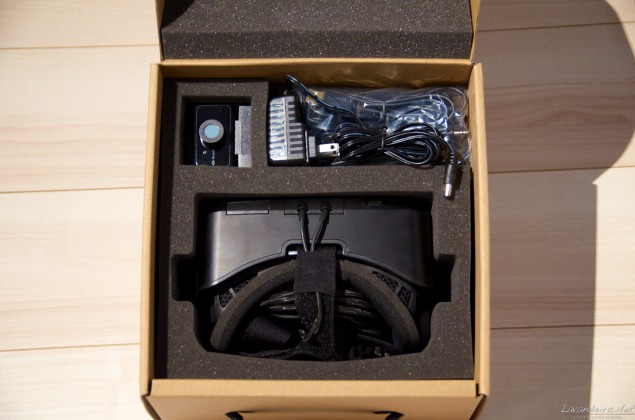 Click to read the whole review.
Read more ›

Let me tell you a little secret about myself: I can sense the ghosts of dead people, and I'm not using a metaphor here. I really mean ghosts, or souls, or spirits of other dead people. Call them whatever you want. I can feel them, and they used to scare the shit out of me.
This started when I was a kid. The apartment where my parents raised me had a badly-lit corridor with the living room on one end, my parents' bedroom on the other, and my own bedroom and a bathroom in between. Often, on my way back from the bathroom, I would have a slight feeling that someone was behind me, just standing there looking at my back. I would turn, and each and every time I was unable to see anyone or anything. However, I felt, I knew there was somebody there, some presence staring at me. I would hurry up, run back to my room, and close the door behind me.
If you live in Tokyo get your ass off the couch and head for Tokyo Midtown now and get some delicious free ice-cream.
Ben & Jerry's is celebrating an event in the basement of the Tokyo Midtown Galleria. Here you can enjoy free ice-cream, have your photo printed in a tub of the delicious thing, sit and relax while you eat under a (fake) tree…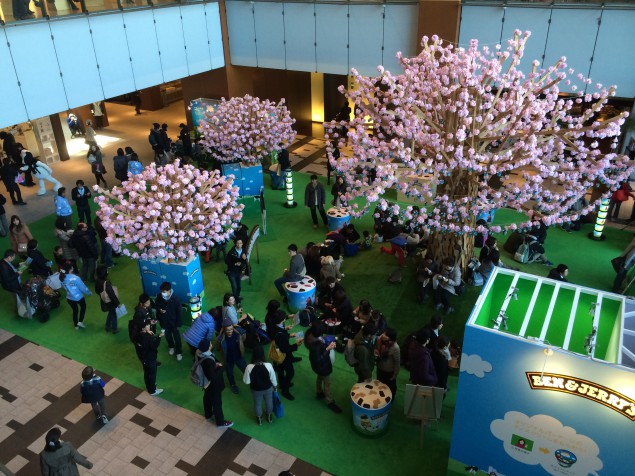 …and also become a happy cow in a virtual reality experience using the Oculus Rift: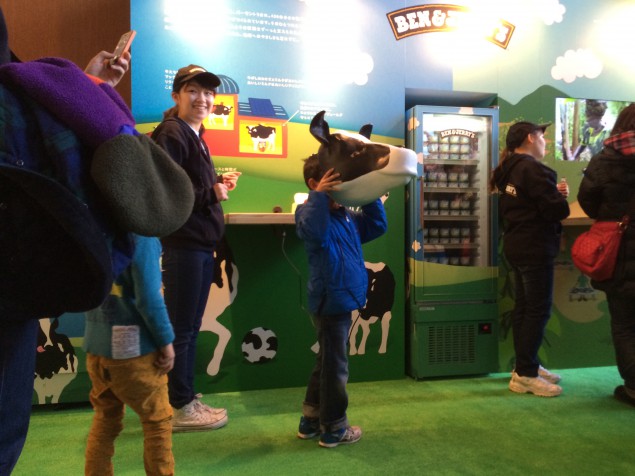 So where and when is this happening? Here you go:
Tokyo Midtown Galleria B1F
Saturday, March 15th 11am-8pm
Sunday, March 16th 11am-7pm
The even was put together by our company, Wieden+Kennedy Tokyo. Keep reading for the fun details.
Read more ›
Yesterday (February 9th 2014), the Copenhagen Zoo murdered Marius, a 18-month giraffe baby by shooting him in the head. They then proceeded to dismember his corpse in front of the zoo visitors and feed the corpse to the lions.
Social networks and news sites are all echoing this crime. Just a few examples:
There was nothing wrong with Marius. He was a completely healthy animal. However, Bengt Holst, Director of Research and Conservation at Copenhagen Zoo, decided that Marius wasn't genetically valuable enough. Other zoos offered to adopt Marius, but Holst declined the offers and decided that it would be a better show to kill the baby giraffe and carve the corpse in front of the public.

This is a photo of this fucking son of a bitch (it's the dude on the left, the elephant is innocent):
In my opinion, this bastard, together with all the staff involved in the killing, should be immediately fired, forbidden to ever work with animals again, and put on trial for cruelty against animals. Under his direction, the Copenhagen Zoo sacrifices 20-30 animals per year.
There are several petitions online to get Holst fired or force him to resign. Here are two of them:
You should sign these, but you know how these things work: online petitions will most likely be ignored. Please share this in all your social networks. It may also be effective to write a letter directly to the Copenhagen Zoo and express your feelings about this killing. Here's the address:
Copenhagen Zoo Administration Roskildevej 32 2000 Frederiksberg Denmark
WARNING: what follows are the photos of the killing and dismembering process. There are lots of blood, so don't read the rest of the post if you're sensitive to this stuff.
Read more ›
I've been following Scott Adams' Dilbert comic stripg for many, many years now. I have most of the Dilbert comic strip books, several of Scott's books (including his just-released How to Fail at Almost Everything and Still Win Big) and I'm an early member of the DNRC. Translation: I'm a huge Scott Adams fan.
Usually Scott's comics are apolitical, but in his February 7th comic strip he takes a very clear stance against homophobia: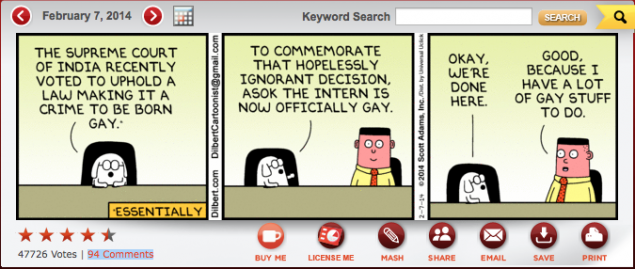 Scott, my respect for you has now officially gone through the roof.
On February 4th 2014 there was a debate between Bill Nye (American scientist known for his The Science Guy educational program) and Ken Ham (the creationist behind the Creation Museum and Answers in Genesis). The topic was:
Is creation a viable model of origins in today's modern, scientific era?

The whole debate is available online here (warning: it's over two hours long), but this is not what I want to write about this time. During the debate, Matt Stopera from BuzzFeed asked 22 creationists to write a message or question to the other side. Most questions were quite dumb. This one is my favourite: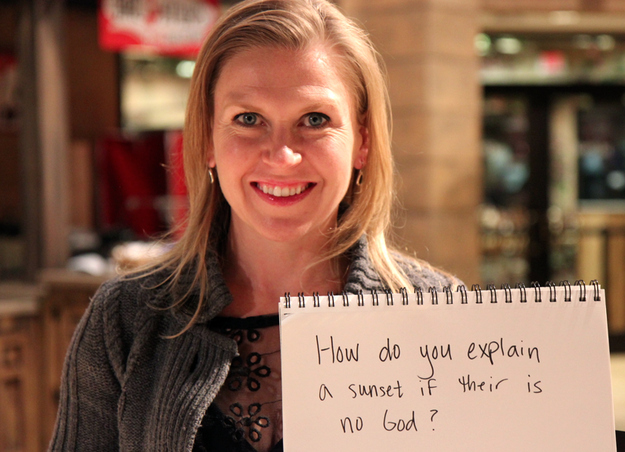 I thought it would be fun (for me) to reply these questions, so here are my answers (keep reading).
Read more ›
Now that I don't work for Apple anymore I can post again about fixing issues in OS X and iOS devices. Some other day I'll write about how much OS X Server sucks (now the Server application), but for now let me tell you about an issue that kept me busy this morning.
One of our work computers in the office has been prompting for the login keychain password every five minutes or so, annoying the user with popups like these:
This started happening after removing the user's account from the computer without deleting the home folder, and logging in again using his Active Directory account. The old keychain was deleted and a new one created manually.
After checking for a while I realized that the problem is that by default any new keychain created via Keychain Access will lock itself every five minutes or when the computer goes to sleep.
Here's how to fix this:
Open Keychain Access (inside Applications -> Utilities)
Right-click the login keychain
Click Change Settings for Keychain "login"…
Uncheck the Lock after X minutes of inactivity and Lock when sleeping checkboxes.
Click Save
Restart the computer (or at least log out from the current account) and these popups shouldn't annoy you again.
The Aoyama Cemetery (青山霊園, Aoyama Reien) is located in central Tokyo, very close to Roppongi. It's huge (263,000 squared meters according to Wikipedia), and it is completely open to the public at all times. It was founded in 1872 and it is Japan's first public cemetery.
It has a foreign plot (外人墓地, gaijin bochi) near the center where many foreigners and their descendants are buried,  but the most popular grave is Hidesaburo Ueno's, owner of Hachiko. I'm sure you've heard his story already, but in case you haven't, here's a short summary:
Hidesaburo Ueno was a professor in the Tokyo Imperial University in the early 1900s. In 1924 he adopted Hachiko, an Akita dog, as his pet. Every morning on the way to work they walked together to the Shibuya station, and every evening Hachiko went to the station to wait for Professor Ueno's return from work.

They continued this routine daily until May 1925, when the Professor didn't return. He had suffered a cerebral hemorrhage and died. For the next nine years, Hachiko kept coming to the same spot every day to wait for Ueno's return, until he too died on March 8th, 1935, aged 11.

There's a bronze statue of Hachiko in the spot where he waited every evening. This is without doubt the most popular meeting spot in Tokyo.
Hachiko is not actually buried in the Aoyama Graveyard (his stuffed remains are exhibited in the National Museum of Nature and Science in Ueno), but there's a small shrine dedicated to Hachiko inside the plot of Professor Ueno's grave, and also a commemoratory pylon just outside the plot.
In late December 2013 I moved to a new apartment just a few minutes walking from the graveyard. Having nothing to do during New Year, I took my camera and went for a walk in the afternoon.
Download full resolution photos (144 MB)
Remember that all my photos are released as public domain. You're welcome to use them for any purpose, whether commercial or not. Attribution is always welcome, but it's not required.
Keep reading to see the photo gallery.
Read more ›